Individual/Intern Summer Housing (30 Night Minimum)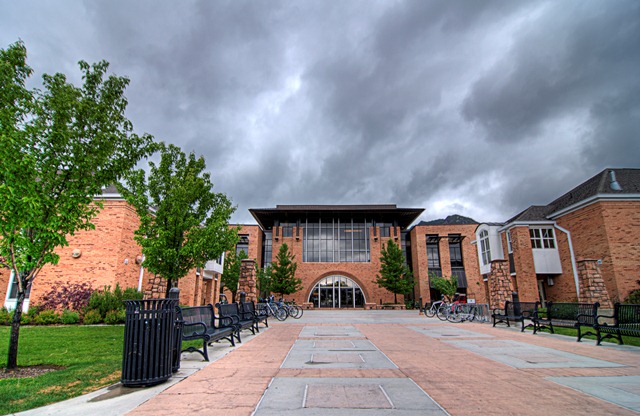 Summer 2022 Registration is now full.
University of Utah
151 Connor Street
Salt Lake City, Utah 84112
Map and Directions
Summer Conferences at the University of Utah is happy to offer accommodations at Heritage Commons, located within historic Fort Douglas. Heritage Commons consist of Benchmark Plaza Apartments during the date range of May 22, 2022 through August 6, 2022.
Benchmark Plaza consists of 3 and 4 bedroom apartments. Each apartment features a full kitchen, individual bedrooms, and a living space to share with fellow interns in the same program.
Heritage Commons is located within a short walk from the TRAX light rail system, which provides easy access to downtown Salt Lake City and the Airport.
COVID 19
All campus COVID 19 current guidelines and protocols will be expected to be followed while on campus. Updates and campus guidelines can be found at: https://coronavirus.utah.edu/
Benchmark Plaza Apartments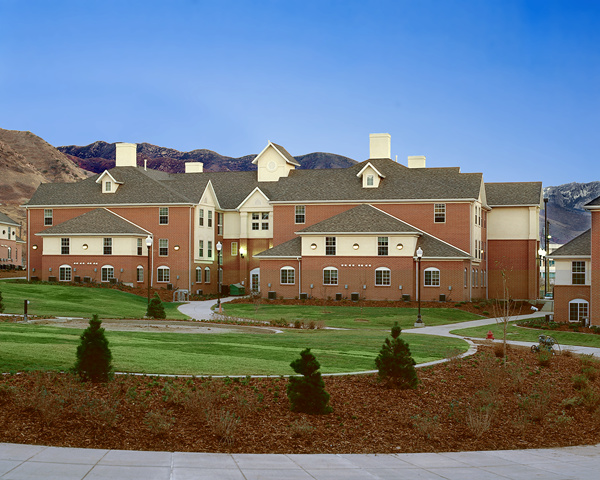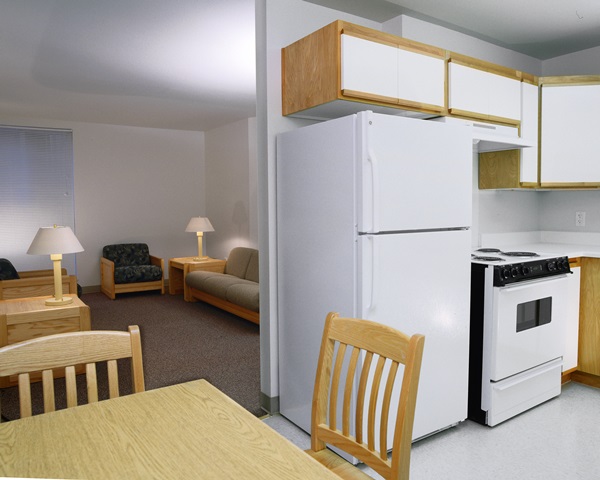 Features:
Twin XL bed, dresser, desk and closet
Bathrooms within the apartment
Living room space with couches, end tables, and coffee tables
Full kitchen in each apartment
Air conditioning
24-hour assistance (open on May 22, 2022)
High-speed internet
Cable TV
Complimentary laundry facilities on each floor. Don't forget to bring laundry detergent!
Short walk to UTA TRAX
Secure building access
General Information
Check-In
Begins at 2:00pm day of arrival.
Check-Out
No later than 10:00am day of departure.
Linens:
Each guest is provided with a pillow, bed linen and a small towel. The bed linen includes two flat sheets and a light blanket. However, it is recommended that guests bring their own large towels, washcloths, and hairdryers (not included in residence hall rooms).
Television and Cable:
Cable is available throughout the residence halls. Televisions and coaxial cables are not available through Summer Conferences. If you have brought a cable-ready TV to campus, you will only need to hook a coaxial cable to get cable. To access the cable network, plug the coaxial cable into both the television and the wall jack.
Kitchen Equipment:
The University of Utah does not provide any kitchen equipment. This equipment includes pots, pans, dishes, and utensils.
Alcohol, Drugs, Smoking and Fireworks, Hover Boards
Alcohol and illegal drugs are NOT allowed anywhere on the University of Utah campus.
Smoking is NOT allowed anywhere on campus.
Fireworks are NOT allowed on any part of the Univerisity of Utah campus.
Hover Boards are NOT allowed on campus
Violations to these policies will result in fines, legal actions, and/or immediate eviction.
Mailboxes:
Mailboxes are available for summer guests staying 30 consecutive days or longer.
Parking on Campus:
Guests staying throughout the summer need to purchase a parking pass from the University of Utah Commuter Services office. It is recommended that guests who will be bringing a car with them purchase their parking pass at least 1 week prior to their arrival. For more information about parking passes, please call 801-581-6415 and identify yourself as a Summer Conference Intern guest staying in Heritage Commons with the Summer Conferences department.
*Process is subject to change.
Meals on Campus:
A meal plan is not included with a Summer Guest reservation, however, Summer Guests are welcome to reach out to dining services for options during their stay on campus. If you would like more information about meal options on campus visit Dining Services website.
(Summer hours are to be determined).
Exercise and Recreation:
Heritage Commons is located near the Student Life Center. Guests interested in using the Student Life Center should call the Summer Conference phone number 801-587-0458 (active May 22).
Area Attractions:
Click on the following links for nearby area attractions (shopping, grocery stores etc.) and directions to those attractions.
Visitors:
For the protection of Summer Conference guests, visitors are not allowed. As a safety precaution, please do not allow other individuals into Heritage Commons residential area when entering. DO NOT prop doors open to allow for visitor access.
This policy is in place for the safety of all residents living in the building.
*Visitors policy is subject to change based on COVID updates.
Contact Us
Kaylee Mortensen
Kmortensen@guesthouse.utah.edu
Rate
$35 per night
Payment Instructions
Summer Conferences will contact you by phone within 5-7 business days to collect your initial non-refundable $650 payment to guarantee your reservation. At that time we will be happy to answer any additional questions you may have.
Reservation Conditions:
30 day minimum required
If your reservation is less than 30 consecutive days you will be contacted regarding whether or not your reservation can be accommodated. Reservations totaling less than 30 days may be subject to cancellation

Payment in full for your stay will be due by May 6th in order to complete your lodging reservation confirmation.

Upon registering for your accommodations, a non-refundable, one-time only $110.00 Administrative Fee and a $150.00 Damage Deposit will be included in the the total room deposit amount due for the reservation.
Your reservation will be secured once you are contacted and we receive payment. We will be contacting you for your payment within 5 business days of making the reservation.
Your Damage Deposit will be refunded (check or credit card refund) after your departure if no additional charges are due i.e. damages, deep cleaning, lost keys, etc.
All summer guests must be checked out by Saturday, August 6th at 10 am.
If you need housing after August 6th we recommend you contact the on-campus hotel, University Guest House http://www.universityguesthouse.com
CANCELLATION: If cancellation of your reservation becomes necessary, you may send written notice to the University of Utah Summer Conference department (). Cancellations received May 6th, 2022 will not be eligible for a refund. Should extenuating circumstances arise which result in your cancellation, exceptions to the cancellation policy can be made on a case by case basis. Please state your reason for cancellation in your written notice to the University of Utah Summer Conferences.